There are estimates placing the release of the initial phase in Q4 of 2021. It was believed to release in the summer but delays have pushed the release date back due to not being fully ready as of yet.
Overview
Like the Mesozoic Valley, The Beyond
The first phase of this expansion features the Sol system (our solar system). The developers at Computer Lunch have confirmed that the expansion will be released in multiple phases. While the initial phase will include celestial bodies such as planets and asteroids, later phases may cover topics like the history of humanity's initial studies of astronomy and journeys into space and explorations of how humans may expand their reach into the solar system in the near future.
It is unknown how the expansion will tie into the overarching story of the game and how it is related to Semblance's goals.
Production
While initially announced in 2018, research and early development on this expansion did not start in early until late 2019. The expansion's production was also adversely affected by the Covid-19 pandemic, and the resulting shifts in workflow that were necessitated by changes such as Computer Lunch employees switching to a work-from-home model. The development and production of the Mammal Kingdom expansion, which took longer than anticipated, also contributed to the delay.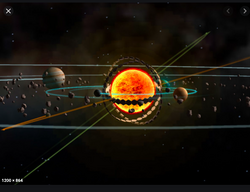 Computer Lunch's official roadmap, released at the end of 2020, places the release of the first phase of The Beyond in the first half of 2021, and indicates that the expansion will feature Astronomy, 3D Planets, and a new Solar System Garden. Later updates in the summer of 2021 indicated a possible release date in August or September.
In the first few months of 2021, Computer Lunch has also featured more information about the development of The Beyond in their monthly Twitch livestreams. A January post on the official Cell to Singularity subreddit gave players an update on the development team's progress and the possible content of the expansion, including some behind-the-scenes photos and screenshots of the in-production expansion.
Beta
The Beyond was released into the first rounds of closed beta testing in June 2021. The initial private test was limited to a small number of players. In July, the Beyond entered open beta testing, with players able to opt in or to apply to join. The Beyond beta is available on Steam, Android, and iOS Testflight.